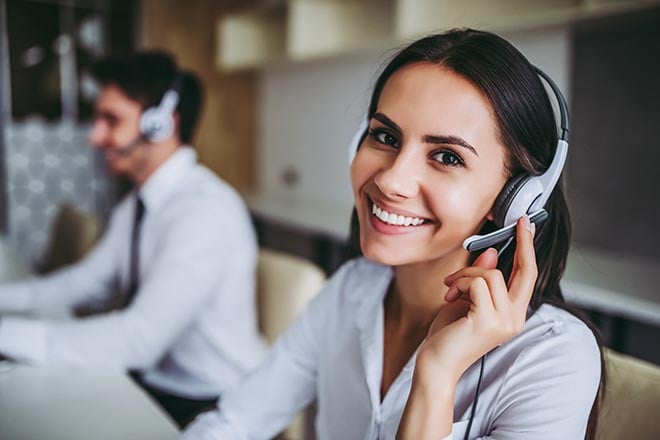 An Interactive Voice Response (IVR) system can be used for many tasks. Most individuals are often familiar with the automated telephone system customers might first encounter when calling a business. These systems are more frequently being utilized because it collects information from the caller and then directs the call to the appropriate call center agent.
Interactive Voice Response System
By using an Interactive Voice Response system, there's no need to hire switchboard operators because the IVR system does it for you. Much like the job activities of a switchboard operator, it also collects the reason behind your customer's call before connecting the individual to the proper department.
Callers navigate through the system by choosing options using either the touch-tone keys on their phone or with voice input. The system responds depending on the given information. With the development of automation technology, call centers can modernize their business while maximizing agent productivity and increasing profits.
When using call center solution technologies, call centers can measure call center cost per call, calculate cost per lead, and take advantage of Customer Relation Management (CRM) integrations. Developments in technology make it possible for customer information to be centralized and at the fingertips of your customer service agents.
How IVR Works
When calls are directed to the incorrect department, it wastes time and money. IVR systems combine the latest software and telephony equipment along with your company's database and supporting infrastructure to handle the incoming or outgoing flow of calls.
This setup can be operated solely by the corporation with the installation of software and hardware on the premises. Likewise, it can also be obtained through an interactive voice response call center solutions cloud-hosting service. This typically is provided for a monthly fee. The fees vary depending on the specific needs of the organization.
Interactive Voice Response systems utilize prerecorded voice responses for a variety of situations, access to relevant information, keypad signal logic, and ability to record voice input data. As the details are processed by the system, each phone call is transferred to a live agent who can then view the information as it generates on the screen prior to taking the call.
Examples of IVR Systems
Some examples of Interactive Voice Response systems include the following:
Movie theater show times, directions to the theater, hours of operation
Bank account balances, branch hours
Mobile phone company self-service, customer service, sales
Marketing surveys
Medical records transcribed using an IVR system
Self-service sales order forms via the phone keypad
Office call routing
Call center forwarding
Benefits of Interactive Voice Response Systems
When using IVR systems in addition to call center technologies, it can provide continuous analytics identifying performance trends not apparent to the naked eye. With regular monitoring, businesses can take a proactive approach to settling issues that pop up over time. These include customer service, products, average talk time, and more.
When someone calls your customer service or sales line, the IVR determines the caller's reason for calling by offering menu options with prerecorded greetings. Some Interactive Voice Response systems include speech recognition software that allows callers to interact with the system.
Upon identification, it delivers the customer's information to your agents. Instead of spending additional time trying to figure out the reason for the call and possibly transferring the call to a different agent, this time is better spent working on the call. The call center agent can quickly note the purpose of the call before beginning the phases to call resolution.
It's frustrating for customers to be transferred from one client to the next, only to not have the problem solved by the time the call ends. By routing callers based on priority and necessity, call centers can reduce hold times, talk times, and incorrect transfers. This ultimately improves agent productivity and efficiency, leading to an increase in customer satisfaction.
IVR systems help call centers save time and money by being online 24/7, operating without interruptions, and providing commonly requested information to callers. Things such as hours of operation, directions, or branch locations don't require the help of call center agents.
Challenges with IVR
As time moves forward, IVR technology improves but still has its flaws. Like with many technologies, it's not a "set it and forget it" system. Companies should update their IVR database menu to tackle the changing needs of their callers. If you suddenly have an influx of customers calling for directions to your physical branch, then updating the IVR with directions would ideally lower calls being transferred to live agents in an attempt to obtain directions. This frees up your agents for tending to other callers that need assistance.
Additionally, it's difficult to include all-inclusive pre-recorded messages to the IVR system to handle every potential issue. It is ideal to incorporate a frequently asked questions (FAQ) menu option but it's impossible to have every scenario listed. Callers might be left with a selection of choices that may not address the reason for their call.
Another challenge companies need to address is giving callers the opportunity to bypass IVR system navigation in order to reach a live customer service agent. Not only is this beneficial in emergency situations but it's sometimes the fastest method for the client. For example, some clients are unsure about who they need to speak with and by dialing "0" or saying "operator," it will route them to an agent that can assist them.
Plus, not every customer is as easily satisfied as others. By using technologies that incorporate behavioral patterns from previous interactions when a client calls, these callers can be transferred to agents that are best suited to handle their call.
Enjoy Full Access to Call Center Solutions
Interactive Voice Response systems considerably improve call center proficiency by reducing transfer time and accurately sending calls to the best department equipped to handle the call. Future IVR advancements are expected with improved innovations in voice recognition technology and conversational artificial intelligence (AI).
Call center solutions can be tailored to fit your specific needs. ChaseData's call center software trial is risk-free gives you full access. For a free trial, contact ChaseData for more information.