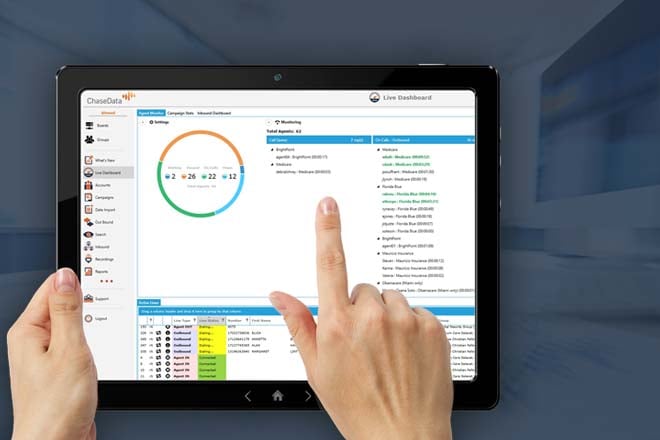 The 1990s at ChaseData Corporation were spent replacing old PBX based call center equipment (ex. Northern Telecom Meridian, Lucent Merlin, etc.). In those days, call centers were rapidly growing their outbound call volumes in support of catalog sales, customer service and in some instances focusing solely on outbound sales. Let's not forget also that in those days, leads were routinely managed on printed call sheets & index cards - there were also bells that rang whenever a sale was made by a telemarketer.
Managers were stymied by the lack of transparency in the call center and the ever escalating cost of ownership/expansion inherent to these PBX based systems. In short, they were being eaten alive by T1, hardware and consulting time maintaining these systems. At that time our Microsoft® Windows based, outbound predictive dialer "PowerStation" was a great operational and financial fit. By 1997 growing access to inexpensive PCs and powerful software such as our predictive dialer was already advancing lead management (ex. spreadsheets replaced index cards) and script management technology (ex. scripts with rebuttals were moving to a screen - no longer printed).
---
NOW IS TOMORROW.
Fast forward to the 21st century. Today, we are still busy replacing PBX systems today however these are large IP phone based systems. This time however managers are desperately in need of 100% transparency not only in the call/contact center but throughout the enterprise. Today, it is out with the old IP phones and in with the ChaseData call center software.
WHY THE SWITCH?
First, ChaseData's solution is truly an enterprise wide solution. Every extension and work group is easily managed from a single location. Today's management easily manage calls to local extensions, remote office groups and work-at-home agents. Your staff simply require a PC (today unlike the 1990s there is one on every desk), a headset or handset. All of the functionality you are accustomed to are available: seek groups, extensions, voice mail, call forwarding, etc.
HERE ARE FOUR NEW FEATURES YOU WILL LOVE:
Intelligent skills based call routing. Extensions are assigned to an agent's predefined skills (ex. language proficiency, workgroup, level of customer service expertise, etc.).

Extensions follow your agents. Unlike traditional systems that require a fixed IP number and subsequently fixed workstation for each extension, our extensions are based on the agent's login. In short, your extension follows you - not the other way around.

Hot sales leads from your website. Users simply supply their telephone number and receive a near instant call back from an agent.

Get much more than just 'Call ID' information. Wether an incoming call is transferred or directly connected, agent screens automatically show critical caller information. For example if the caller has an 'open support ticket', pending customer service or collections issue or is simply a high value customer, the screen at the extension displays all of the real-time information on the caller.
---
We invite you to explore the infinite ways ChaseData can help you rethink you call center. Sign up for a FREE TRIAL or complimentary consultation today.